Innovative capacity through joint work on R&D projects in networks and associations, with renowned universities as well as scientific institutes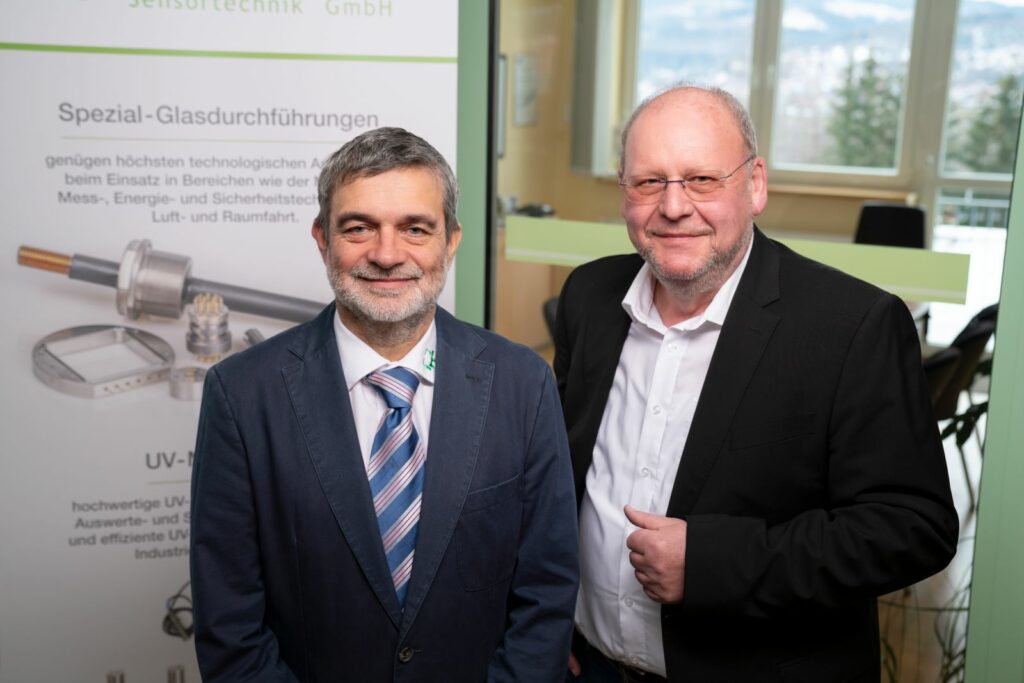 In 1992, the company was founded with 9 employees and continued a tradition of more than 30 years in the production of glass feedthroughs. To date, this business unit has been constantly expanded as the core business for customer-specific applications in the fields of pressure sensor technology, humidity sensor technology and UV sensor technology, in line with market requirements. With the company's new buildings in 2001/2002, 2008/2009 and 2014/2015, the production conditions improved decisively and new technologies, such as a conveyor belt melting furnace for the effective production of pressure glass and adapted glass feedthroughs, a nickel-aluminium electroplating plant for the partial finishing of housing components, a dosing and pouring machine for the assembly of glass feedthroughs or a CNC automatic lathe for precision parts could be put into operation. New applications in the medical sector or in corrosive environments use titanium or Inconel as turned part materials in addition to stainless steel. In 2004 was a technology to produce ceramic feedthroughs for high-pressure applications was newly developed, followed in 2011 by the melting technology for titanium-aluminium alloys and in 2016 by a 3D printing technology for sintered glass bodies.
Sensors, sensor modules and electronic devices are developed, manufactured and distributed in the UV Sensors and Moisture Sensors business units. Currently, a complete range of UV sensors, measuring windows, UV display and reference measuring devices is offered especially for UV disinfection of drinking water, service water and ballast water on ships.
The company has demonstrated impressively that ideas can be organised: In a relatively short time, the company also made a name for itself internationally with customised solutions and gained high recognition among its customers and partners for expertise, creativity and product quality. Our joint work on research and development topics with renowned universities and scientific institutes underlines the innovative capacity of the almost 80-strong team of engineers and highly qualified specialists around the managing directors Dr.-Ing. Horst Hansch and Rolf Kirchhoff. The logical outcome of the last few years' positive business development was the expansion of our production capacity, our infrastructure and the number of employees. The company has been certified according to DIN EN ISO 9001 since 1996 and is a recognised training company.
Milestones in our company history
Company founding
Founding of the company on 27/01/1992
TOU consolidation
Consolidation within the framework of a "Technology Oriented Start-up" (TOU) with the project "Microsystem-capable dew point sensor modules with integrated evaluation circuits".
Innovation Award Thuringia
The company IL Metronic Sensortechnik GmbH was awarded the Innovation Prize of the Free State of Thuringia (3rd prize) with the project "Dew point humidity measurement technology according to the CCC*Dew point measurement principle according to Heinze".
ISO certification
The company's quality management system was certified under reg. no. 73100236 in accordance with DIN EN ISO 9001 by TÜV CERT
Recognized training operation
The company created apprenticeship training opportunities and started training 2 physics lab assistants.
Company split-up
The company was split into IL Metronic Sensortechnik GmbH and IL Metronic Verwaltungs GmbH & Co.KG.
New construction I
The company moved to its new premises.
10th anniversary
The company celebrated its 10th anniversary together with its customers, project partners and business friends.
Recognised internship company
The IHK Südthüringen listed the company as a recognised traineeship company in the training occupations:
Physics laboratory technician
Industrial mechanic
Mechatronics technician
Industrial electronics technician
Equipment assembler
MDR filming
MDR visited our company in preparation for that year's "German Innovation and Business Forum".
New construction II
A new four-storey building was constructed next to the current company building.
Entrepreneur of the Year
On 27 October 2009, the German Association of Small and Medium-Sized Businesses (BVMW) awarded our Managing Director Dr Horst Hansch the prize for "Thuringian Entrepreneur of the Year 2009
Company of the Year
On 14 September 2010, IL Metronic Sensortechnik GmbH was voted South Thuringia's Company of the Year 2010 at the MuT awards ceremony (http://www.mut-unternehmerpreis.de).
Grand Prix of Medium-Sized Businesses
On 5 October 2013, our Managing Director Dr Hansch accepted the award "Großer Preis des Mittelstandes 2013" from the Oskar Patzelt Foundation. IL Metronic Sensortechnik GmbH was nominated for the fourth time by the Ilm-Kreis district, the IHK Südthüringen Suhl and the Elektronische Mess- und Gerätetechnik Thüringen (ELMUG) e. G. for the competition. In 2012, it was a finalist.
New construction of laboratory building
25 years' company anniversary
Our trainees are among the foxiest – The Southern Thuringia Chamber of Commerce and Industry honours best dual training graduates
IL Metronic Sensortechnik from Ilmenau came out on top as the "best training company". The company's high standard of training combined with an exemplary retention rate and a strong commitment to vocational orientation made for a winning combination. Another of the Chamber's fox-shaped awards, the first in the company's history, was handed out for the training occupation "industrial mechanic". https://www.suhl.ihk.de/mediathek/pressemitteilungen/dezember-2020/besten-im-beruf
30 years' company anniversary
Memberships in networks and associations
Our company is one of the founding members of ELMUG e.G., which was transformed from an industrial cluster into a cooperative in February 2009 to improve cooperation between the cluster members and ensure the market success of the companies.